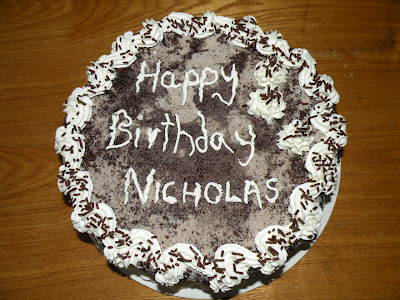 I made this Cake for my Nephew . Its a very easy & delicious Cake . For this recipe you need :
1 pint Vanilla Ice-Cream
12 Oreo Cookies
5-6tbsp Caramel Sauce
Take the Ice-cream out of the freezer & leave at room temperature for about 40-45min or until the ice-cream is soft .
Crush the Oreo Cookies into a fine powder .
In a big bowl mix Vanilla Ice-cream , Oreo Cookies &  Caramel Sauce .
Transfer it onto a plastic wrap  lined baking pan . It will allow you to transfer the Ice-cream easily .to a cake stand .
Place the pan back to the Freezer & allow to freeze for about 6-7hrs .
Remove the Cake to a Cake stand & decorate according to your wish .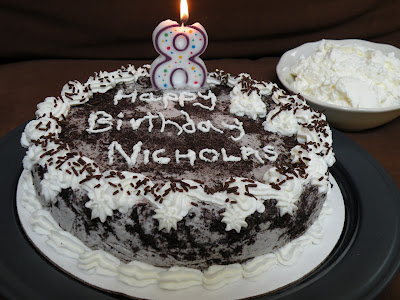 I decorated the Cake with some whipped cream & sprinkles .
If you have extra whip cream serve with the Cake slice .