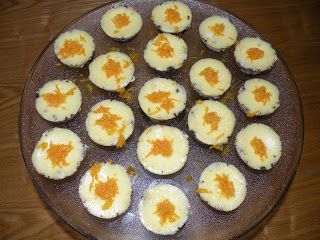 Combine 1/3 cup crushed Chocolate Graham Crackers with 2tbsp melted Butter .
Take a mini muffin tin & grease with butter ,put 1tsp each Chocolate Graham Crackers into the tin & press down firmly .
In a food processor combine 1/4cup each Ricotta Cheese , Cream Cheese , Sugar ,Zest of a half Orange & 1 Egg . Mix it until it comes smooth . Pour this into the muffin tin .
Place the muffin tin into a baking dish & pour enough hot water in the baking dish to come halfway up the sides of the muffin tin . Bake in a 350degree Pre-heated oven for 25min .
Cool it completely & refrigerate for 15min .Gently loose the sides & pop it out .
Before serving mix half of the orange zest with 2tbsp Sugar & sprinkle it on the top .