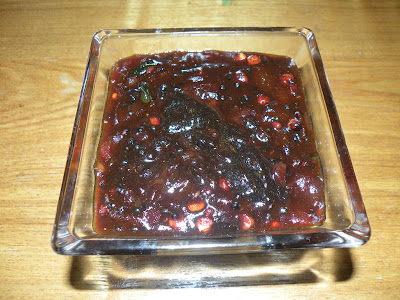 This is a kind of Pickle or Achar . My friend Lakshmy told , they use this as a side for Venn Pongal or with Curd Rice . I like this a lot cos its very sweet , tangy & spicy . I like this kind of combinations . So lets start :
Oil
1tsp Mustard Seeds
1/2tsp Channa Dal
1/2tsp Urad Dal
Curry Leaves
1 chopped  Onion
Curry Leaves
Tamrind Pulp
1/2tsp Turmeric Powder
1tbsp Sambar Powder
1/2tsp Hing
1/4cup melted Jaggery
Salt
Take a big lemon size Tamrind & soak in a 1cup hot water for few min . Mix it well & strain the liquid , it should be a thick pulp .
I used Eastern Sambar Powder for this recipe .
Heat some Oil in a pan & add Mustard , Channa Dal & Urad Dal .
Allow it to crack .
Add Onions & Curry Leaves .
Fry it until Onions turn golden brown in color .
Into this add all the Powder's .
Mix everything well .
Add the Tamrind Pulp & Jaggery .
In a low flame allow it to cook down .
Taste the Pickle & make sure everything is correct .
Allow it to cool down & store it in a clean jar & refrigerate for further use .
Serve it with Venn Pongal