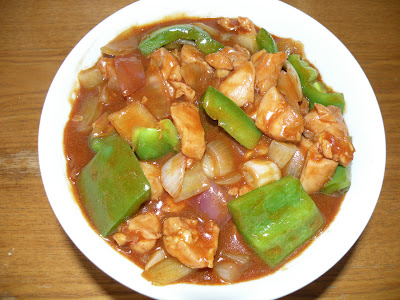 This is a easy Chicken recipe . For this recipe I used 6 boneless  Chicken Thighs .
Cut the Chicken into small pieces .
Marinate the Chicken for 1/2 hrs with :
1tbsp Chili Sauce
1tbsp Soy Sauce
1tsp Vinegar
Salt
( In market there is Green & Red Chili Sauce , you can use any of them .I used Red one)
Add 1/4 cup water into the Chicken & cook .
In a pan heat some Oil & saute 1 chopped Onion .
When the Onion turns transparent add 1chopped  Bell pepper .
( Try to cut the Onion & Bell Pepper  into big pieces )
Remove that Onion & Bell Pepper to a plate .
Into the same pan add some Oil & in a low flame fry 2tbsp Chili Powder .
( If you want you can reduce the amount of Chili Powder , in my home we love spicy food )
Add the cooked Chicken & mix everything well .
If needed add 1tbsp of mixed Cornflour starch into the Chicken , so that the gravy can thick up .
( Take 1 tbsp of Cornflour starch  & add  some water & mix until its a smooth paste )
Add the sauteed Onions & Bell Pepper into the Chicken & mix everything well .
 Serve hot .
You can serve this with Rice , Fried Rice , Chapati or with Idiyappam .