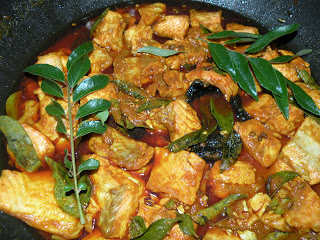 Ingredients to make Meen Vattichathu / Meen Pattichathu ( Kerala Style ):
1 pound Fish , ( King Fish , Salmon , Tilapia or Red Snapper ….. )
3tbsp Chilli Powder
1/2tsp Turmeric Powder
1/4tsp Methi / Fenugreek Seeds
3tbsp Ginger , grated
Curry Leaves
Salt
Coconut Oil
Method :
Mix Chilli Powder & Turmeric together .
Add  Water & make a smooth paste .
Heat some Oil in a pan & add Methi seeds .
Add Chilli & Turmeric paste into the Oil & saute the mixture on a medium heat until it turns into deep dark red  colour or the raw smell of the Chilli powder is gone .
Add 1/2cup Water ,Salt & Kudampuli .
Allow the mixture to boil .
Carefully add  Fish into the hot gravy & allow Fish to cook .
Add Ginger & Curry Leaves into the Curry & swirl the pan .
Serve Meen Vattichathu / Meen Pattichathu ( Kerala Style )  hot with Rice or with Kappa .
Enjoy !!!!!!!!!!!!!!
*Note :
This particular Fish Curry is meant to keep for longtime. This won't get bad soon. It always tastes better after 1day. Just make sure you boil this curry very well everyday and leave it outside, no need to keep this curry inside fridge.
If you want to make this curry less spicy without compromising its color use only 2tbsp Chilli Powder and into that add 1tbsp Paprika/Kashmiri Chilli.
Checkout this youtube video: Meen Pattichathu