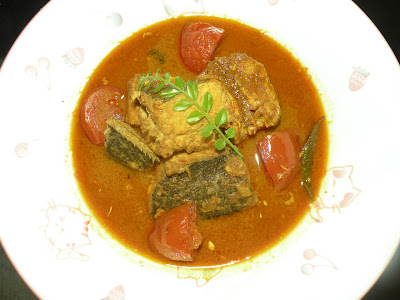 For this recipe I used 3 pounds of Flounder Fish . Typically this curry is made with any kind of Sea Fish like Tuna , King Fish etc. For this recipe you need :
2 cup grated Coconut
In a non-stick pan fry the Coconut .
While frying be careful to reduce down the heat to medium flame.
If needed add some Coconut Oil .
Fry until Coconut turns golden brown in color .
Using your grinder grind the Coconut into fine paste .
2cup Water                                    5 Green Chilies
3tbsp Coriander Powder                3tbsp grated Ginger
2tbsp Chili Powder                        5-6 Kudampuli
1tsp Turmeric Powder                   Curry Leaves
Salt
In a big pan add all the ingredients & bring to boil .
Bring down the heat & allow all the ingredients to cook & reduce down .
Add  Coconut paste  & Fish into the curry .
Bring it to boil & add 2 diced Tomatoes .
When Fish is cooked turn off the gas & serve hot with Rice.
While making this curry be careful about 2 things :
1 : Curry should be thick , don't add too much of water .
2 : Try to take this curry after 1 day .