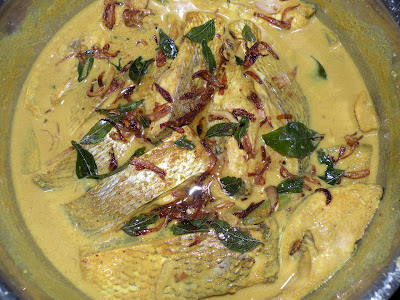 My Mom used to make this curry . Its very easy to make . For this recipe I used 8 pieces of Fish .
You can use any kind of fish which have good flesh .I used Porgy for this recipe .
To make this curry you need :
Curry Ingredients :
2 1/2 cup Thin Coconut Milk                               
3tbsp Coriander Powder                      
1tsp Chili Powder                                
1/2tsp Turmeric Powder                      
1tbsp Garam Masala
5-6 Green Chilies
1 Raw Mango
Salt
Garnish :
5 Shallots
2tbsp thinly sliced Ginger
Curry Leaves
1/4cup Thick Coconut Milk
In a pan add all the Curry Ingredients .
Allow everything to boil & then add the cleaned Fish .
Cover the pan with a tight lid & allow the Fish to cook .
Add the Thick Coconut Milk & turn  off the gas.
In another pan add some Coconut oil & fry the Shallots , Ginger & Curry leaves .
Add this on the top of the Fish Curry.
Serve it hot with Rice .
If you don't have Mango add 2tbsp Vinegar .
In this recipe I told about thin Coconut Milk . If you are buying the canned milk , take 2 1/2 cup water & add 2-3tbsp of canned Coconut milk ,you will get the correct consistency .