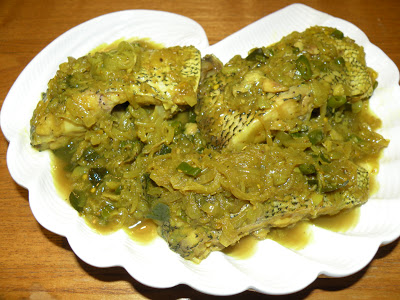 This recipe , Meen Chuttathu is a very authentic Kerela recipe . I think now a days most people doesn't even know about this recipe . I got this recipe , Meen Chuttathu from my Mother-in-law .
You need a lot of Shallots , I mean " A LOT ".
Ingredients :
5 pieces of Fish
Use any kind of Fish You have , but I prefer Pearl Spot Fish ( Karimeen ) or Sardines .
20-25 Shallots
You can use more , more is good . Have to slice the Shallots into small rounds .
4-5 Green Chillies
1tsp Grated Ginger
1tsp Turmeric Powder
1/2tsp Garam Masala
Black Pepper Powder
Coconut Oil
Curry Leaves
Salt
Place all the ingredients except Fish into a pan , using your hands gently mix all the ingredients together .
Sprinkle some Water on the top of the Masala , don't pour too much  of water .
Turn on the Gas & cook the Shallots until its slightly soft .
Turn the gas into low flame .
Carefully place all the Fishes on top of the Masala .
Cover the pot with a lid .
After 1min open the lid & carefully turn the Fish .
Spoon up the Masala & cover the Fish with  the Masala  .
Allow the Fish to cook through .
Serve it hot with Rice .