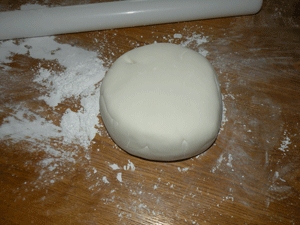 Ingredients : To make Marshmallow Fondant
16oz mini Marshmallow
1-2tbsp Water
2lbs Powdered Sugar , keep more You will need that
Crisco , for greasing
Method :
On a microwave safe bowl , add Marshmallows & Water .
Microwave for 2min or until Marshmallows are puffed up & soft .
Grease 1 wooden spoon nicely ( don't forget this step ) .
Mix the melted Marshmallow well .
Continuously stir & add powder sugar until its difficult to stir .
Grease a large work space with Crisco .
Carefully pour the Marshmallow mixture onto the work space .
Add more powder sugar & knead the Marshmallow mixture until it thickens & get the texture of soft play dough .
Wrap the Fondant in a plastic wrap & store it inside a zip-lock bag , don't allow the air to come inside .
This fondant can kept on room temperature for at least 2 weeks .
If You want to keep inside the freezer , make sure You wrap the Fondant nicely . When You are ready to use , just pop it inside the microwave for few mins & knead the fondant with some Crisco until You get the right texture .