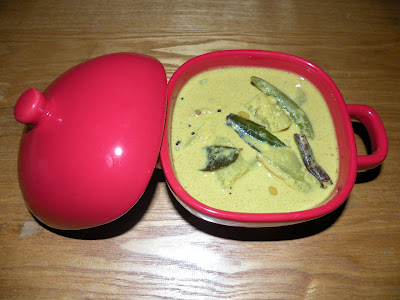 For this recipe you need :
1 Raw Mango                                    3tbsp Coriander Powder
3 Green Chilies                                   1tsp Chili Powder
3 cloves Garlic                                   1/2tsp Turmeric Powder
2 cup thin Coconut Milk                      1/2tsp Garam Masala
Mix everything in a pan & bring to boil .
Bring down the heat & cook until the Mango is tender .
Add 1/4 cup Thick Coconut Milk & mix well .
For Garnish :
1tsp Mustard Seeds
1 pinch  Fenugreek Seeds
2 whole Red Chilies
Curry Leaves
In a pan heat some Coconut oil & fry everything .
Pour it into the Mango curry & mix well .
Serve it hot with Rice .