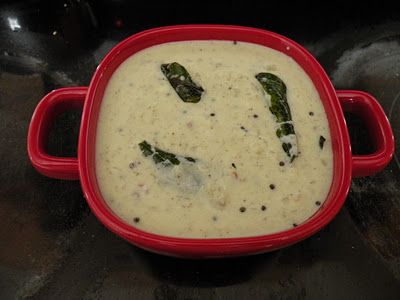 Pachadi is a typical Kerala dish , we serve this curry mainly on Onam .  You can make this dish  with different kind of Vegetables , instead of Kumbalanga ( Winter Melon ) you can use Beetroot , Okra , Pineapple , Cucumber or with Bitter Gourd . This is a Yogurt based curry . Lets see how you can make Pachadi .
Winter Melon 1/2 kg  ( chop it very thin )
Cook Melon by adding 1/4 cup Water & Salt .
To Grind :  1 cup grated Coconut                  For Seasoning : 1tbsp  Oil
3 Green Chilies                                                 1tsp Mustard Seed
2 tsp Mustard Seeds                                        Curry Leaves & 2 Red Chilies
Grind all the ingredients by adding some water .
When the Melon is cooked add the Coconut Paste .
Allow the curry to heat through .
In an another pan crack the Seasonings & add into the Curry .
When the curry is cooled add 500ml thick Yogurt .
Its good to serve in room temperature . Serve it with Rice .
When you cook this curry be careful about adding water . After cooking the melon if there is water try to drain the excess water or cook until all the water is evaporated .