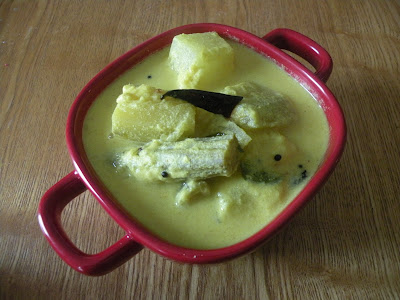 Ingredients : To make Kumbalanga Mango Curry
250gm Winter Melon / Kumbalanga
2stick Drumstick / Muringakka
1 Raw Mango
1tsp Turmeric Powder
Water
Salt
Cut all the Vegetables into medium size pieces .
Add some Water , Turmeric & Salt .
Cook all the Vegetables until its tender .
Drain the excess water .
Ingredients : To Grind
1/2cup Grated Coconut
3-4 Green Chillies
2 Whole Red Chillies
1 clove of Garlic
Grind to a smooth paste .
Add the Masala onto the Vegetables .
Mix everything well .
Add  2-3 cups of  Butter-milk .
If you  need more gravy , add more Butter-milk .
Ingredients : For Seasoning
1/2tsp Mustard Seeds
1/4tsp Fenugreek Seeds
2-3 Red Chillies
Curry Leaves
Heat some Oil in a pan & crack all the ingredients & pour on the top of the Curry .
Mix everything well .
Serve it with Rice .