Kids Bake Sale Ideas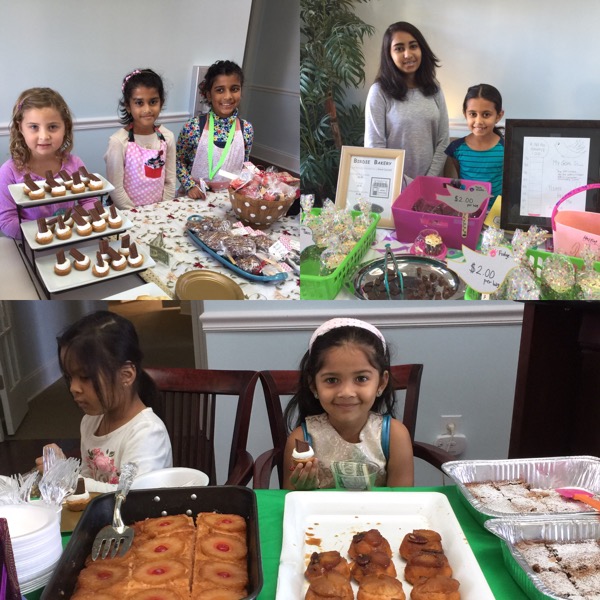 Kids Bake Sale Ideas :
Every year in my community, our HOA organize Vendor's Fair. It's a great opportunity for an entrepreneur to show case his/her goods, it can attract many people to improve your business.  This year my daughter also participate in the fair for Kids bake sale. Me and my Daughter loves shopping and we had a great time.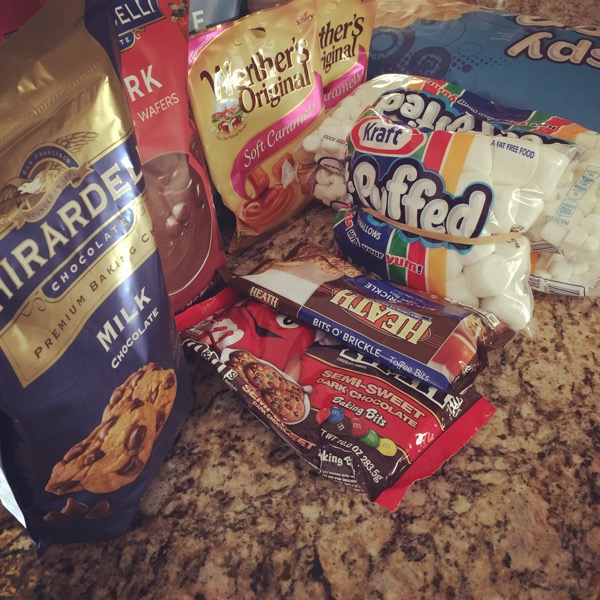 We made 4 different items. Most of the items we made are got inspired from Pinterest.com. We made:
Chocolate Covered Apples
Neapolitan White Crispy Treats
Raw Chocolate Cookie with Cashew Cream
Hot Chocolate Spoons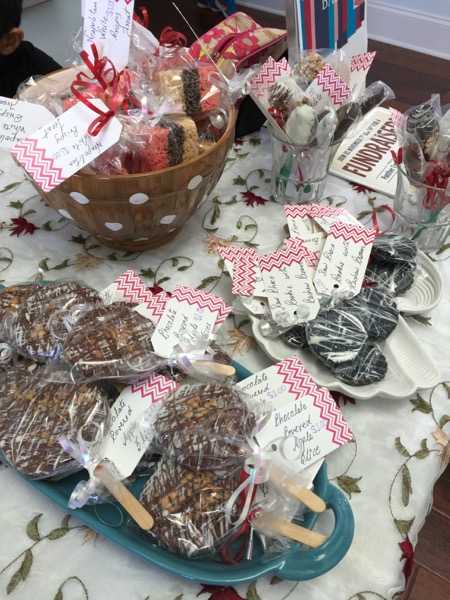 Chocolate covered Apple Slices:
Recipe Courtesy: Mom Loves Baking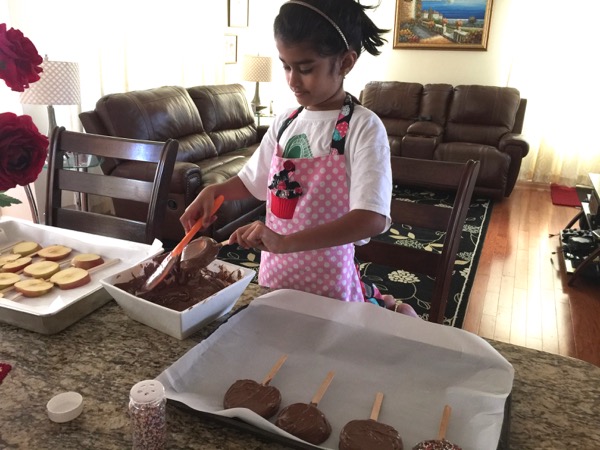 For this recipe, I used 5 Fuji Apples, sliced into 4 thick pieces ( make sure to dry the apple slices using tissue paper ) and covered it with melted Semi Sweet Chocolate ( used Ghirardelli ) and allowed to set firm and then drizzled with melted chocolate and toffee bits.
This a great and easy job or activity which kids can do by themselves.
Neapolitan White Crispy Treats:
Recipe Courtesy: Erin Cooks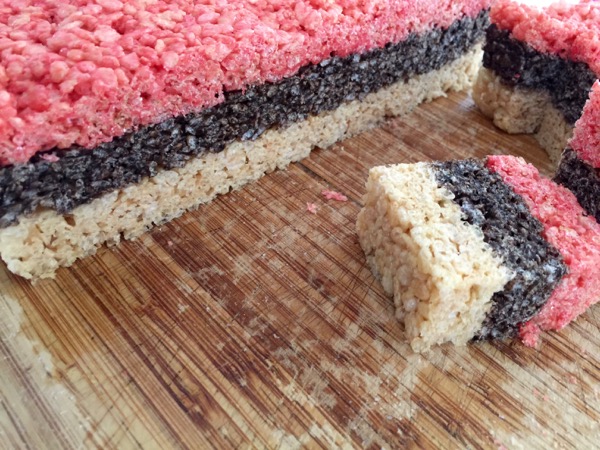 Rice Crispy Treats are the colorful and the yummiest treats from all the goods we made this time. It has to be done in 3 diffrenet steps:
1) Making Vanilla Layer:  For this layer, we melted 3tbsp Butter, 10 oz bag Marshmallow and added 6cups of Rice cereal. Make sure to mix everything well and try to transform it into a prepared pan immedieatly. Using a spatula push evevrything down into 1 layer. Keep it a side and allow to cool down completely.
2) Making Chocolate Layer: While making this layer I realized that we didn't had Chocolate Rice Cereal. To make it Chocolate, I melted 3tbsp Butter, then added 1/2cup Hershey's Chocolate Syrup and into that added 3tbsp Coco Powder. Mix everything well and turned the heat to low and then add the 6cups of Rice cereal. Transfer it on top of the Vanilla Flavor and push everything down using a spatula into 1 layer. Allow it to cool down completely.
3) Making Strawberry Layer: While making this layer I realized we didn't had Strawberry Marshmallows or even Strawberry syrup or even Strawberry Fluff. To make this layer I melted 3tbsp Butter and added  3oz packet Strawberry Gelatin  and mixed everything together and then added 6cups of Rice Cereal. Transfer it on top of the Chocolate Layer and pushed well and made it into 1 layer.
Allow it to cool down and then slice into pieces.
Raw Chocolate Cookie with Cashew Cream:
Recipe Courtesy: Nadia's Healthy Kitchen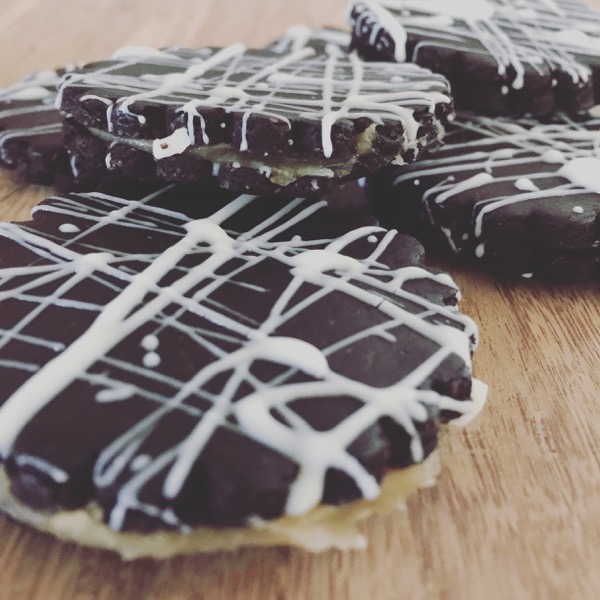 Ingredients needed to make Chocolate Cookie:
1cup Oats Flour, using a food processor or bleander make a fine powder of Quick Oats
1/2cup Coco Powder
1/4cup Maple Syrup
2tbsp Coconut Oil
1/4tsp Salt
Ingredients needed for Cashew Cream:
3/4cup Cashew, soaked in water for about 6hrs, make sure to drain all the liquid well
2tbsp Maple Syrup
1tbsp Coconut Oil
1tbsp Milk
1/2tsp Vanilla Essence
1tbsp Lemon juice
Method:
To make Cookie, mix all the ingredients in Chocolate cookie together and make a dough.
Using 2 parchments papers roll out the dough into thin sheet.
Using a cookie cutter, cut the dough into circles.
Spread the cookies onto a parchment paper and place it inside the fridge to get chilled and set.
Meanwhile make the Cashew Cream.
Using a blender, make a fine paste of all the ingredients in the Cashew Cream.
Take Cookie out and sandwich with Cashew Cream.
Store the Cookies inside the fridge and try to serve it cold.
Enjoy!!!!!!!
Hot Chocolate Spoons
Recipe Courtesy: Alpha Mom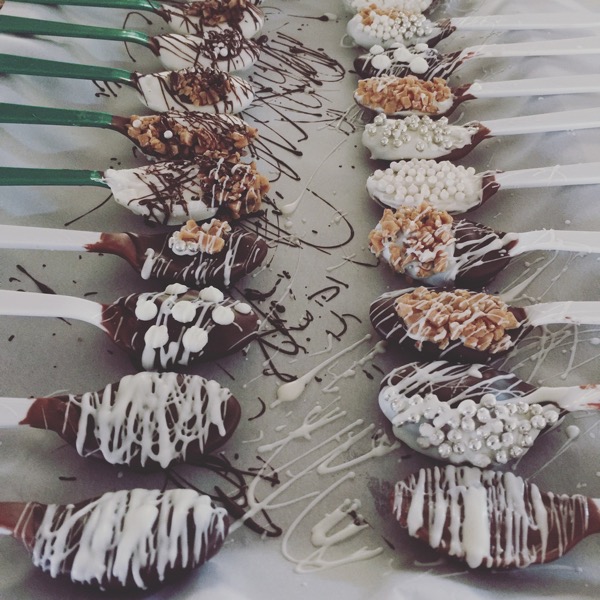 Making Hot Chocolate Spoons are very exciting and intresting activity for kids. To make these Chocolate covered spoons all you need is some plastic spoons, melted Chocolate and some sprinkles according to your taste.
When we made these spoons, first we filled each spoon with melted Caramel and allowed it to cool down. Then dipped it inside melted Chocolate and made some decorations using sprinkles and melted White Chocolate.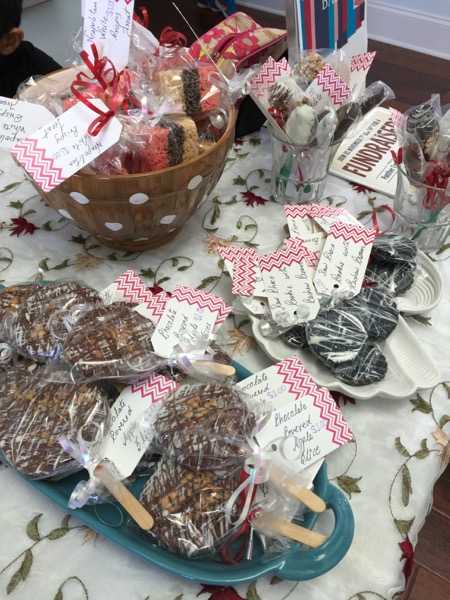 After making all the items, we individually wrapped it and made a hand written note, so that people can know what they are going to buy.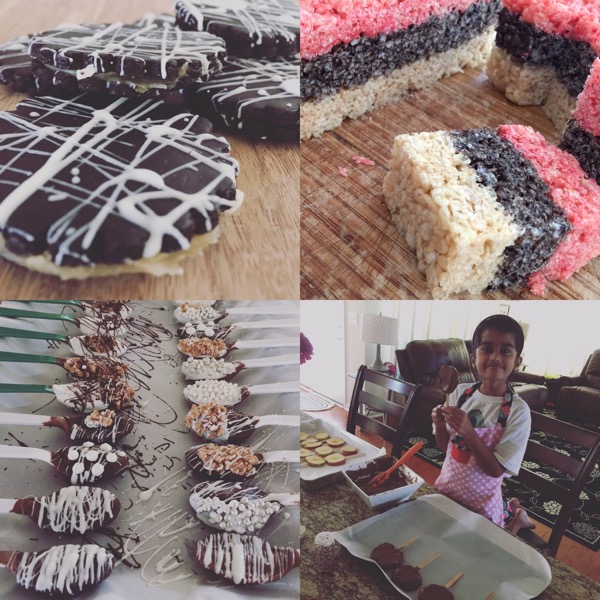 Bake sale was so much of fun, especially my Daughter had a great time and learned a lot of new things. I hope you all had got an enough ideas for the next time you do a bake sale for your Kids.
Enjoy!!!!!!!