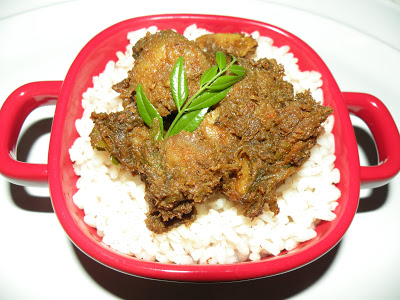 Ingredients : To make Kerala Shrimp Roast
3 pound Shrimp , cleaned
1tsp Chilli Powder
1/4tsp Turmeric Powder
Salt
Mix everything well .
Marinate the Shrimp & keep aside for 10-15min.
2 Onion , sliced julienne
1tbsp Ginger , grated
3-4 cloves of Garlic , minced
4-5 Green Chillies
Curry Leaves
1/4cup Thick Coconut Milk
1 Tomatoes , chopped
1cup Coconut pieces , thinly sliced
1tbsp Chilli Powder
1tbsp Coriander Powder
1tbsp Black Pepper Powder
1tbsp Garam Masala
Salt
1small piece Kudampuli
Coconut Oil
Method :
Heat some Oil in a pan & saute the Onion until it turns light golden brown in colour .
Add Ginger , Garlic , Green Chillies & Curry Leaves .
Saute for few mins & add all the Masala Powders .
In a low flame fry the masala for few min .
Add Tomatoes & Coconut pieces .
Mix everything well .
Add Coconut Milk & Shrimp .
When it boils add Kudampuli & Salt .
Cook until all the water is evaporated & the curry has a thick consistency .
Serve it hot with Rice .