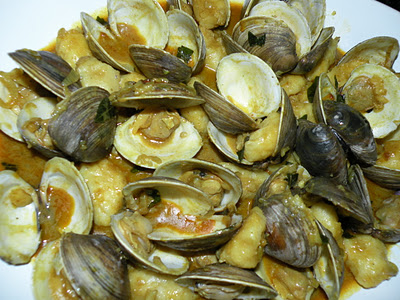 For this recipe I used 2 dozens of Clams . While cleaning the clams be careful , discard all the clams which are cracked & opened ( check it one by one ) .Wash well & soak in a salted cold water for 15min , it will allow all the dust & sand to settle down the bowl . After that rinse it again .
In a pan heat some Olive oil & add 10 chopped Shallots & Curry leaves . Saute it .
Add 1 1/2 tsp Chilli Powder & 1/4tsp Turmeric Powder . Mix everything well .
Add all the cleaned Clams & Dumplings  into the pan & cover with a tight lid .
Allow the clams to cook & open , cook it for few more min or until all the dumplings are fully cooked .
Dumplings ( Pidi ) :  Take 1/2 cup Rice Flour , add a handful of grated Coconut & Salt .
Mix it with water , carefully add the water & mix everything well until it becomes like a  dough . Make small balls or make any kind of shape you want . Careful ,what ever  shape you make it should be small , otherwise it will take a long time to cook .
While making Pidi you can add some Garlic & Cumin Paste into the Rice Flour mixture , it will give a great flavor .
This is my Mom's Sister's recipe ………..  We used call her Mummy ……………