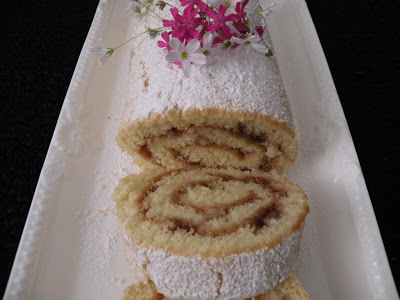 Ingredients : To Make Jelly Roll Cake
4 Eggs
2/3cup Sugar
1/4cup Cold Water
1tsp Vanilla Essence
1cup Flour
1tsp Baking Powder
Pinch of Salt
2/3 – 1 cup Jelly or Preserve ( I used Raspberry Preserve )
Powder Sugar
Method :
Pre-heat Oven to 375 degree .
Generously grease or line 15 x 10 x 1 inch baking pan with a Wax Paper .
Take a clean Kitchen Towel & lightly sprinkle with Powder Sugar .
In a small bowl combine Flour , Baking Powder & Salt .
Keep aside .
In a large bowl beat the Eggs until thick & Lemon -colored, it make take 5min.
Gradually add Sugar & beat until light & fluffy .
Using a Spatula stir in the Water & Vanilla Essence .
Carefully fold in the Flour .
Spread the batter evenly in the greased pan.
Bake at 375 degree Oven for about 8-12 min or until top springs back when touched lightly in the center .
Loosen the edges & immediately invert  onto Sugared Kitchen Towel .
Carefully trim the edges , it will be little crispy .
Starting with the shortest end roll up the Cake in Towel .
Let it cool for 10min .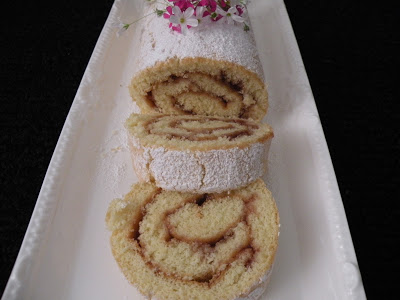 When its cooled unroll the Cake & remove the Towel .
Spread the Jelly & roll the Cake .
Sprinkle some Powdered Sugar on top & Serve with Tea or Coffee .