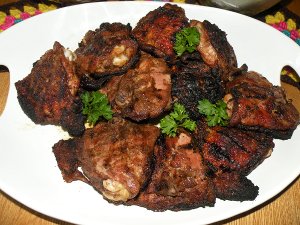 Ingredients : To make Jamaican Jerk Chicken ( Seasoning / Rub ) 
1tbsp Onion Powder
1tbsp Brown Sugar
1tbsp Dried Thyme
1 1/2tsp Allspice Powder
1tsp Salt
1tsp Black Pepper
1/2tsp Ground Nutmeg
1/2tsp Cinnamon Powder
1/2tsp ground Cloves
1/4tsp Cayenne Pepper
Mix all the ingredients together & store in a air tight container .
This rub will sit inside your cabin for weeks .
I used 10 pieces of Chicken thighs & sprinkled a good heap of Jerk seasoning & allowed Chicken to marinate inside the fridge for about 6hrs .
Then I grilled the Chicken until its fully cooked .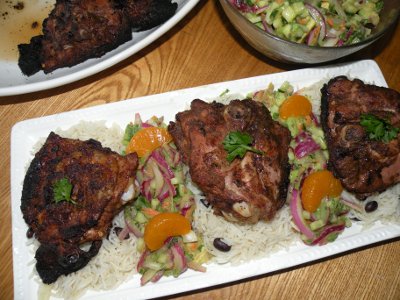 I served the Jerk Chicken with some Black Beans Rice & some Salad .
To make Black Beans Rice : Saute some Onion & Garlic . Add 2cups of Basmati Rice , mix well & add 4 cups of hot Chicken stock . Cook until Rice is cooked through & then add some cooked Black Beans into the Rice & mix everything well . I used store bought Black Beans ( which gets in the can ) just rinse the Beans & add to the Rice .