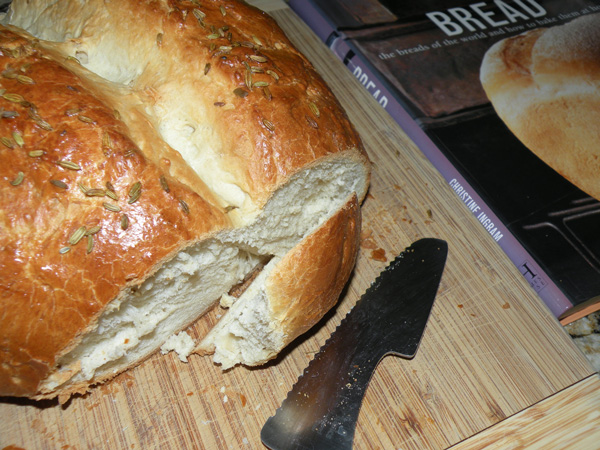 Ingredients to make Hungarian Split Farmhouse Loaf :
4cup White Flour
2tsp Salt
1/2tsp Fennel Seeds , crushed
1tbsp Sugar
4 1/2tsp Yeast
1 1/8cup lukewarm Water
2tbsp Butter , melted
For the Topping :
1 Egg White , beated
Pinch of Salt
2tsp Fennel Seeds for sprinkling
Method :
In a bowl mix the Yeast with water & allow it to activate .
Meanwhile , in an another bowl mix together Flour , Salt , Sugar & crushed Fennel .
Carefully pour active Yeast & Butter on top of the Flour & carefully mix everything well .
Knead the dough for about 8-10min or until the dough is smooth & elastic .
Place the dough in a lightly oiled bowl & cover with a towel & let it rise in a warm place for about 40-60min or until doubled in size .
Punch down the dough & shape the dough into an oval  shape & allow it to rest again on a prepared pan for about 30-40min or until doubled in size .
Meanwhile pre-heat the Oven to 425 degree .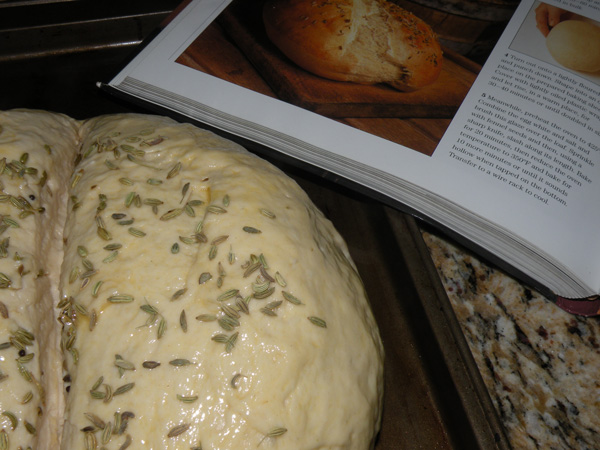 Combine Egg White & Salt together & brush on top the loaf & sprinkle Fennel Seeds .
Using a sharp knife slash along its length .
Bake the Loaf in a 425 degree Oven for about 20min & then reduce the temperature to 350 degree & bake for another 10min or until it sounds hollow when tapped on the bottom .
Allow the bread to cool down .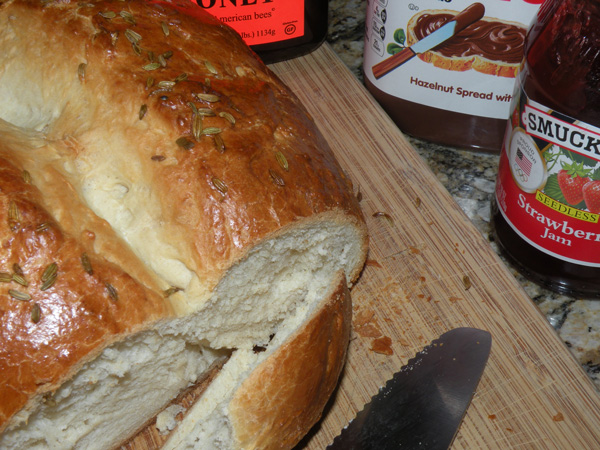 Serve it with Honey / Nutella / Jam or with Butter .
Enjoy!!!!!!!!!!!!!!!!!