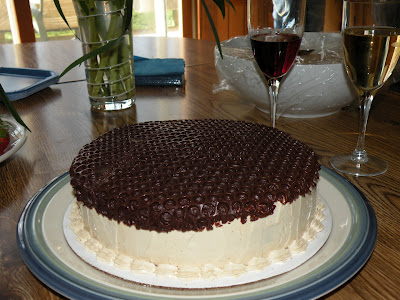 I got this recipe from Ria's blog .This is a very easy cake to make . For this recipe you need :
Vanilla Cake
Butter Icing
Bitter sweet Chocolate for the Honey Comb
Vanilla Cake :
2 3/4 cup Flour                                  1cup soft Butter
2tsp Baking Powder                           2cup Sugar
Pinch of Salt                                       4 Eggs
1 cup Milk                                          1tsp Vanilla Essence
Mix all the dry ingredients in a bowl .
Beat Butter ,Sugar , Egg & Vanilla Essence .
Mix in the Flour & Milk .
Pour the batter into a prepared pan & bake in a 350 degree pre-heated Oven for 40-45min or until the inserted toothpick comes out clean .
Allow the cake to cool down & carefully slice the cake into 3equal rounds.
Coffee Cream :
4 Egg Whites                          2tsp Instant Coffee Powder
1 1/2 cup soft Butter               2tsp Water
1cup Sugar
In a big bowl beat the egg whites & sugar .
Place the bowl on a simmering water & beat until the egg white is warm .
Remove from the heat & beat the egg white until it comes to the room temperature .
You should feel like the egg whites had never been warm .
Add the butter & beat well .
Mix the Coffee Powder in water & add to the Cream & beat well .
This Butter Icing is very good .
Honey Comb :
1 1/3 cup Bitter Sweet Chocolate
You can use any kind of Chocolate .
Melt the Chocolate & cool it down .
While cooling the Chocolate try to stir & cool down .
Cut a round from the Bubble Wrap using the Cake tin as a guide .
Pour the Chocolate onto the Bubble wrap .
Allow the Chocolate to set .
Assembling the Cake :
Apply the Coffee Cream on each layer & also the top & sides of the Cake .
Carefully take the Bubble Wrap & keep over the cake & press down .
Keep the Cake in Fridge for 15min .
Carefully peel away the Bubble Wrap .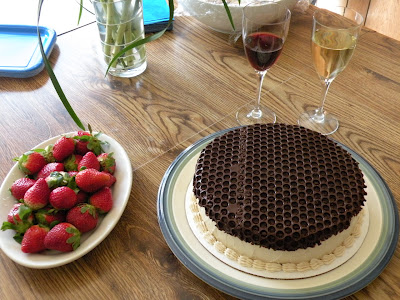 Your Honey Comb Cake is done .