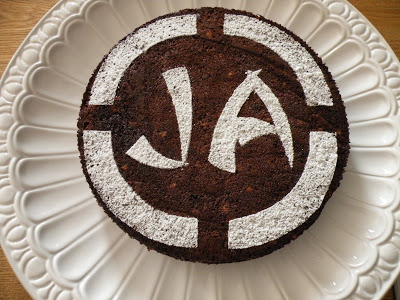 Ingredients : To make Hazelnut Chocolate Cake
3 ounce Chocolate ,  chopped & melted ,using a double boiling method ( I used Dark Chocolate )
5tbsp Unsalted Butter , room temperature
13 ounce Nutella
2tbsp Instant Coffee Powder
6 Eggs , seperated
1tsp Sea Salt
1cup Hazelnut , toasted in a 357 degree Oven for 8-10 min
Method :
In a big bowl combine melted Chocolate , Butter ,Nutella , Coffee Powder , 6 Egg Yolks & toasted Hazelnuts .
Using a spatula or with a wooden spoon combine all the ingredients together .
On an another bowl whisk the Egg Whites & Sea Salt together , until it become almost stiff peaks .
Carefully fold the Egg Whites into the Chocolate Hazelnut Mixture .
Don't over fold the mixture .
Pre-heat the Oven to 350 Degree .
Pour the batter into a prepared pan .
Bake for about 40min or until the sides of the Cake is released from the sides of the pan .
For this particular Cake there is no need to insert the tooth pick to check if the inside is done or not .
This Cake has a texture of a Chocolate Hazelnut Fudge .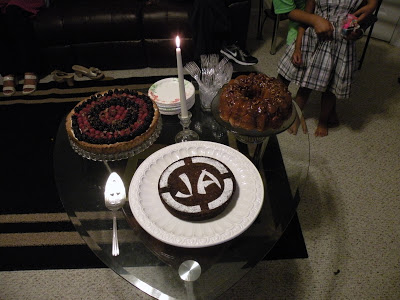 For the decoration I draw a picture & made a template , then I dusted some powdered sugar on top & carefully removed the template from the top .