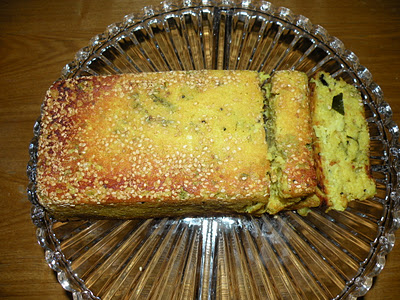 Handuvo is a baked Vegetable Cake . I got this recipe from my best friend , Lakshmy .
This is a Gujarati dish . This is a good Breakfast or a Tea-time snack .
For this recipe I used Handuvo flour which now a days we get in stores , or you can make your own Handuvo flour . For that you need :
2 cup Raw Rice                     1 cup Channa Dal                       1 1/4 cup Yogurt
Soak the Rice & Dal for 4hrs .
Grind it into a coarse paste , adding little water .
Mix with Yogurt & let it ferment for overnight .
It won't rise to top  like a Idli batter .
If you are using the Flour then take 3 cups of Flour .
32 ounce container Yogurt ( this much yogurt you need , if you are using Handuvo Flour )
Mix the Flour & Yogurt , keep it for overnight to ferment .
3 cups of shredded Lauki ( Bottle Gourd )
You can use any kind of vegetable like Cabbage , Carrots , Methi , etc .
1 cup grated Coconut
1 cup Chopped Corriander Leaves
4 tbsp Ginger , Garlic & Green  Chili Paste
1 tsp Turmeric Powder
3/4 tsp Hing
1tbsp Chili Powder
1/2 tsp Baking Soda
1 tsp Baking Powder
8tbsp Sugar
Salt
Juice of 1 Lime
Mix everything well into the batter . Taste the batter & adjust the Sugar & Salt .
In a pan add some oil & crack 2tsp Mustard Seeds , 4 whole Red Chilies , Handful of Sesame Seeds & Curry Leaves .
Pour this mixture into batter & mix everything well .
Pre- heat the Oven to 375 degree & pour the mixture into a prepared pan & bake for 40min or until the cake is cooked through .
Once the Cake is cooked turn the Oven to Broil & cook for another 5min , so that the top of the cake gets golden brown color .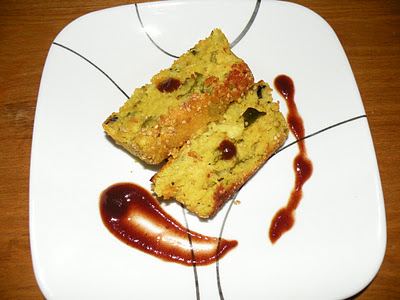 Serve it hot with some Tamarind Dates Chutney .