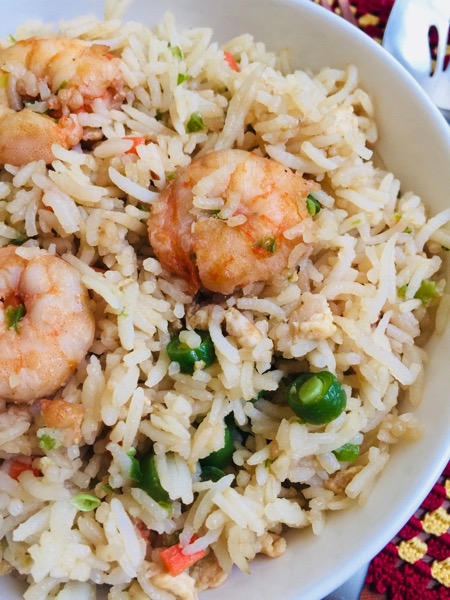 Ingredients : To make Fried Rice
To make Rice :
2cups Basmati Rice
4cups Hot water
Salt
Black Pepper Powder
Method :
Heat some Canola or Vegetable Oil in a pan .
Add the Rice & fry on a medium flame for few mins .
Add the Hot water , Pepper Powder & Salt .
Mix everything well .
Allow the Water to boil & when water & Rice comes to the same level cover the pan with a tight lid & turn off the Gas .
Allow it to sit for about 20-25 min ( don't open before that ) .
Open the lid & fluff the Rice using a fork .
Vegetables needed for the Fried Rice :
1-2 Carrots / Beans
1 Green Bell Pepper
2 stack of Celery
1-2cup Chopped Cabbage
1 bunch of Spring Onion
1/2cup Green Peas
Cut all the Vegetables into same size .
You also need :
Scrambled  Egg , I usually make scramble of 4 Eggs
You can also use Chicken pieces ( cooked ) , Shrimp , Pork etc : according to Your wish .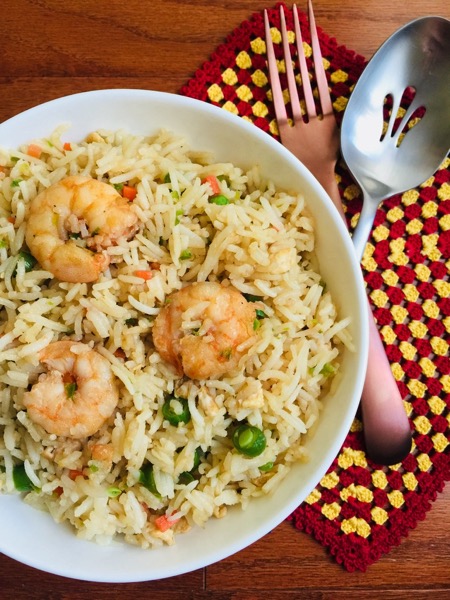 Final step of Fried Rice :
1-2tbsp Soy Sauce
Black Pepper Powder
Salt
Heat some Oil in a big pan & add all the Vegetables .
On a high flame mix all the vegetables together .
( Make sure You don't cook the Vegetables for too long , it will be good if the Vegetables have its crunch )
Add the Soy Sauce , Pepper Powder & Salt ( if needed )
At this point You can add scrambled Egg / Chicken or any kind of meat which you like .
Carefully mix in the Rice into the Vegetables .
Mix everything well .
Serve Fried Rice hot with Chilli Chicken / Chilli Paneer / Chilli Pork  Or any kind of Curry You like ……………..
For cooking video check: