I made a Kerala style Fish Roast . This is my Mom's recipe ……. Its a blend of different Masala's ………. Try it out & let Me know how it came .
Ingredients : To make Fish Roast
2 Fish , I used Fresh Tilapia ( its easy to get in USA )
Use any kind of Fish , try to buy big ones.
Score the Fish & using a tissue paper to dry the Fish well .
Masala's to grind :
4-5 Green Chillies
5-6 cloves of Garlic
2tbsp grated Ginger
1tbsp Black Pepper
1bunch of Coriander Leaves
1tsp Garam Masala
1/2tsp Turmeric Powder
Salt
Using a grinder , grind all the ingredients together until its a smooth paste .
*Note : If you want more spiciness or heat to the dish add more Green Chillies & Black pepper according to Your taste .
Carefully pat down the Masala onto the cuts on the Fish .
If there is left over Masala , just pat it on the Fish ( don't discard )
Allow the Fish to sit inside the fridge for about 30 min.
Shallow fry the Fish until the Fish is cooked through & it gets a nice golden brown in colour .
*Note : While frying  the Fish You should be very careful , cos the Fish will have a tendency to stick down to the pan cos of Ginger & Garlic .So what I did is I put 1 layer of Banana Leaf on the pan & kept the Fish on top of the Leaf .Banana Leaf will give the Fish a nice flavour & aroma . Even some people add Curry Leaves to the Oil to get good flavour .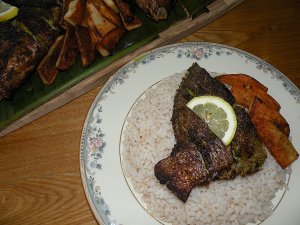 Serve the Fish Roast hot with some Rice or with some Potatoes wedges .