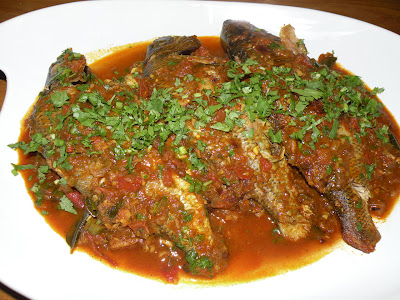 This is a  Tomato based Curry .  I used 5 Porgy for this recipe . I just used the whole fish , if you like the cut into medium size pieces .
For this recipe you need :
Fish
1 Onion diced
4-5 Green Chilies
4 cloves Garlic
2tbsp grated Ginger
4 chopped Tomatoes
Curry Leaves
1tbsp Chili Powder
1tsp Turmeric Powder
1tsp Pepper Powder
Salt
Coriander Leaves
In a pan heat some Oil & saute Onion , Ginger , Garlic , Green Chilies & Curry Leaves .
When Onion turns golden brown in color add all the Powders .
In a low flame fry the masala .
Add the Tomatoes & cook until it mash down .
Add some water & Salt .
Place all the Fish on top of the Masala .
Cover the pan with a tight lid & allow to cook the Fish .
Carefully turn the Fish & cover the Fish with the Masala .
If you need add some water , but it will be good if the masala is dry .
Garnish with some Coriander Leaves .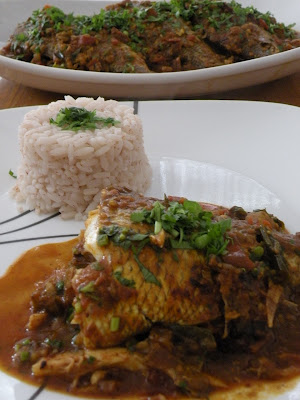 Serve it hot with Rice or with Roti .