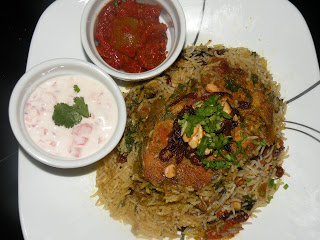 Clean the Fish , marinate the fish with 1/4tsp each Chilli Powder , Turmeric ,Black Pepper , Lemon Juice & Salt . Keep this for half an hour .
( Use the fish which have solid meat , King Fish is the best . For this recipe I took 4 pieces of King Fish . )
In a pan put some oil & fry the fish until it gets light golden brown color on each sides . In same pan saute 1 chopped Onion . When the onions turn golden brown add the paste of 3 Green Chillies , 10 cloves of Garlic & 3tbsp of Ginger . Saute 3 diced Tomatoes , into that add  1/2tsp Chilli Powder , 1/2tsp Turmeric Powder , 1tbsp Black Pepper Powder ,1tsp Garam Masala. When all the Masala's are fried add 1/2 cup of water & allow the masala to boil , then add the Fish & Salt . Cover the pan & cook the fish , then add some chopped Coriander Leaves .
Gravy of the Fish Curry should be thick .
Don't put too much Chilli Powder in Biryani , all the heat should come from the Green Chillies & Black pepper .Otherwise the color of the Biryani will change .
While making the gravy always fry the Onions properly otherwise it will give a sweet taste .
In a pan put some Ghee & fry 2 thinly sliced Onions into golden brown color .Remove the onions & fry 1/4 cup each Cashew nuts & Raisins .  Keep it in a different plate for garnish .
In the same pan put  1 Cinnamon Stick , 4- 8 Cloves , 4 Cardamon  & 2 Bay leaves . In to this add 2 cups of washed Basmati Rice & fry until  all the water is evaporated . Add 4 cups of hot water , Salt & pinch of Safforn into the Rice & cook the Rice .
In all my Rice recipes I had told how to cook the rice perfectly . It's a very easy method .
Take a  steel pan & apply some Ghee & put half of the Rice into the pan & press down , over the rice carefully put the Fish pieces & its gravy , sprinkle the half  of the fried Onion , Cashew, Raisins & Coriander Leaves  on the top of the Fish  . Later put the rest of the rice on the top of the fish & cover the fish pieces with rice . Sprinkle the rest of the Onions ,Cashew , Raisins & Coriander Leaves . Cover the pan tightly with the lid or with a foil .
Bake this in a 350degree pre – heated oven for 30min  .
Serve it hot with Raita , Pickles & Pappadam .