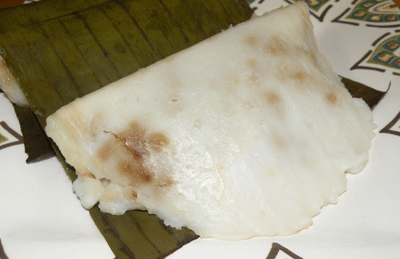 Ela Ada is a traditional Kerala delicacy . In my home my Mom usually makes Ela Ada as a Tea-time snack ,she usually varies the fillings , sometimes it will be Coconut mixed with Sugar or sometimes it will be Jackfruit filling  ( Chakka Varatti ) & what all type she make I love to eat Ada ………
Ingredients : To make Dough for Ela Ada

1cup Rice Flour
Boiling Water , as required
Salt
Banana Leaf or Parchment Paper , cut into rectangles
Method :
In a large mixing bowl , add Rice flour & Salt .
Pour boiling water & mix well using a wooden spoon .
Allow the Rice flour mixture to cool down slightly & then knead well , until You get a soft dough .
Ingredients : To make Filling for Ela Ada
1/2cup Grated Jaggery
2-3tbsp Water
3/4cup Grated Coconut
1pinch Cumin Powder
Cardamom Powder
 Method :
Add Jaggery & Water in a pan & melt the Jaggery .
Add Coconut & mix everything well .
Cook until all the Water is evaporated & Coconut mixture is dry .
Add Cumin & Cardamom .
Mix everything well & allow it to cool down .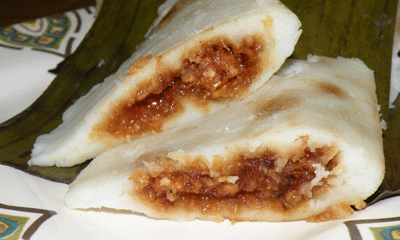 Assembling Ela Ada :
Take a lemon sized portion Dough & place it onto a piece of banana leaf .
Using Your finger tips flatten the dough evenly onto the Banana Leaf , if the dough is sticking on to Your fingers , dip your finger tips in Water .
Place 1tbsp of Filling onto the side of flatted dough & gently fold the leaf & press the sides gently to seal the edges .
Place it on the Steamer & steam for about 10-15min.
Serve it hot with some Coffee or with Tea .