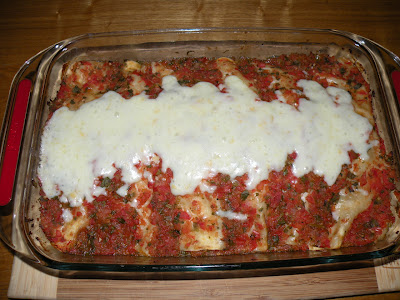 This is the easiest Enchiladas I ever tried . Its a semi-homemade recipe . One of my friend is a Mexican , when I visited her home she  made this Enchiladas . Hearing the recipe itself I fell in love with the dish , cos its very easy . So lets start :
To make Salsa :
6 Tomatoes
1 Green Chilies
1 Onion
Salt
Coriander Leaves
Juice of a 1/2 Lemon
Finely chop everything & mix well .
Enchiladas :
6 Flour Tortillas
1 Rotisserie Chicken
2cup Asiago Cheese
1cup Thick Yogurt
Pepper Powder
Shred the Chicken & add 1cup cheese , Yogurt & Pepper Powder .
Take 1 Tortilla & place some Chicken on the middle & roll .
Place the Tortilla's on a prepared pan & pour the Salsa on the top .
Cover the pan with a foil .
Bake this on a 350 degree pre-heated Oven for 40min .
Remove the foil & sprinkle the rest of the Cheese .
Return the dish back to the Oven until the Cheese is melted & edges of the Tortilla is just beginning to turn crisp .
In this recipe I had made some changes :
In original recipe she used Cheddar Cheese instead of Asiago .
Also for Yogurt , she used Sour Cream . I don't like sour cream that's why I used Yogurt .
If your in India & don't get Tortillas , use plain Roti .
If you don't have Rotisserie Chicken then cook some chicken in some Salt & Pepper & use that .
Enjoy your Enchiladas hot !!!!!!