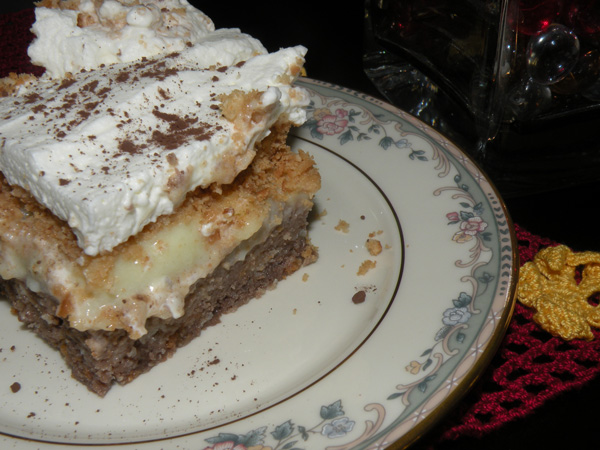 Ingredients to make Delight Pudding :
Sponge Cake or Angle Cake , crumbled & layered on a glass dish
1st Step : Making the Chocolate Layer
2-3tbsp Water
2 1/2tsp Gelatin
1tin Condensed Milk / Milkmaid
3cup Milk
3tbsp Coco Powder
2tsp Instant Coffee Powder
2tsp Sugar
2tsp Butter
Method :
In a small bowl combine Water & Gelatin together & allow it to soak .
Meanwhile combine rest of the ingredients together & allow the mixture to boil . Continuously stir the mixture .
When its boiling , carefully add the Gelatin & mix everything well .
Carefully strain the Chocolate Mixture on top of the Cake .
Press everything well .
So that the Cake can soak up all the Chocolate mixture .
2nd Step : Making the Custard
For this I used a store bought Custard Powder & followed the steps on the back of the box.
Carefully strain the Custard on top of Chocolate & Cake Layer .
 3rd Step : Biscuit Layer 
1cup Biscuit Powder , I used Britannia Biscuit
1/4cup Cashew , roughly chopped
2tsp Butter
Method :
Mix all the ingredients together in a pan .
Carefully heat the mixture until it turns light golden brown in color .
Sprinkle the Biscuit on top of the Custard .
Cover the pan with a plastic wrap & refrigerate the pudding until You are ready to serve.
Before serving cover the whole pudding with Whipped Cream .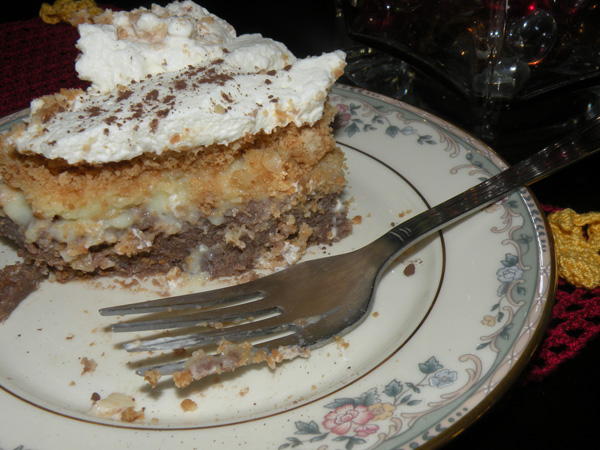 Serve Cold .
Enjoy !!!!!!!!!