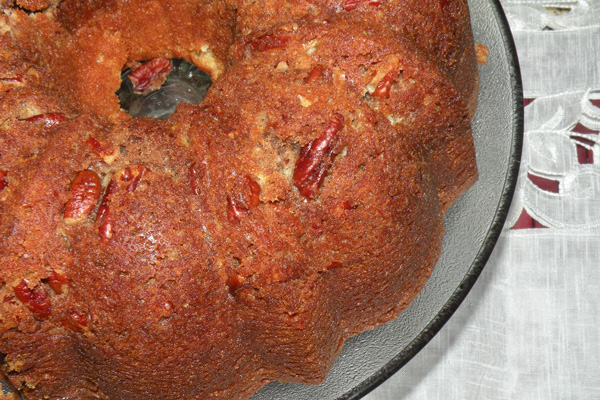 Ingredients to make Coffee Cake :
For the Cake Batter :
2cup Flour
2tsp Baking Powder
Pinch of Salt
4 Eggs , room temperature
2cup Sugar
1cup Milk
1stick Butter , room temperature
1tbsp Vanilla Essence
Ingredients for Topping :
1 1/2stick Butter , room temperature
3/4cup Flour
1 1/2cup Brown Sugar
2tsp Cinnamon Powder
1 1/2cup Pecans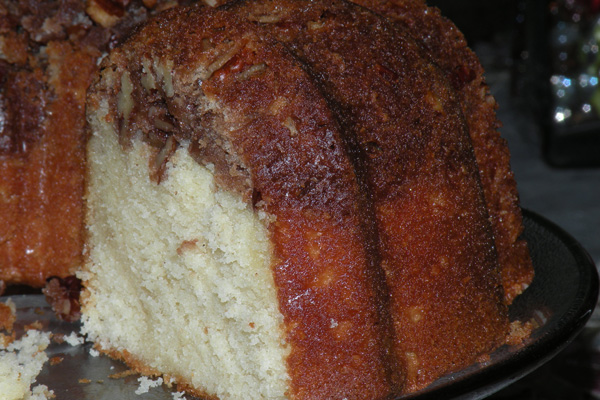 Method :
In a bowl mix Flour , Baking Powder & Salt together ,  keep it a side .
In an another bowl beat Eggs until it turns light & fluffy .
Meanwhile in a saucepan combine Milk & Butter together .
Heat the Milk mixture until Butter is dissolved & Milk is  nicely warmed .
When Eggs turned light in colour add Sugar little by little .
Beat  Egg & Sugar mixture until its creamy & doubled in volume .
Now add Vanilla Essence into the Egg Mixture .
Carefully add  Flour into the Egg mixture & combine everything well .
Transfer the hot Milk into a large bowl & using a Wire  Whisk carefully incorporate the Cake Batter into the Milk . ( Try to do in small batches )
Pour the batter into a prepared Cake tin , I used Bundt Pan .
To make the topping , mix all the Topping Ingredients together  in a bowl & sprinkle on top of the Cake Batter .
Pre-heat  Oven into 350 degree & bake the Cake for about 40-45  min or until its cooked through .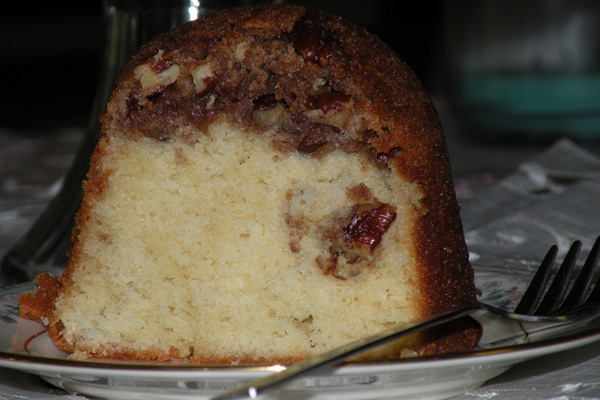 Serve it warm with a cup of Coffee …………
Enjoy !!!!!!!!!!!!