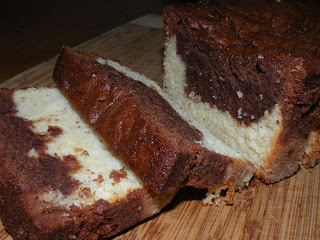 Preheat oven to 350degree . Prepare a baking dish & keep it in a side .
In a big bowl combine 2stick of Butter (room temperature ) , 2cups Sugar & 2tsp Vanilla Essence , beat it well .Then add 3 Eggs & beat until it combine .
Stir together 2 3/4 cup Flour ,1 1/4tsp Baking Powder & 1/4tsp Salt .Keep 1cup Buttermilk also .
Add a little flour into the egg batter, mix , then add a little Buttermilk , like that finish entire flour & buttermilk.
Measure 2cups of Batter into a small bowl , stir in 1cup Hershey's Chocolate Syrup & 1tbsp Instant Coffee Powder .
Pour the Vanilla batter into the prepared pan & pour Chocolate batter over it and give the pan a good tap & bake it for around 60 to 70 min ,or until the wooden pick comes out clean . Cool it & slice .