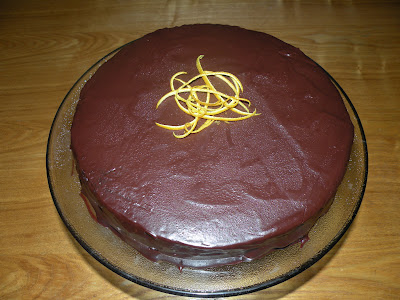 Ingredients to make Chocolate Orange Cake :
1 1/2cup All Purpose Flour
1/2cup Coco Powder
1tsp Baking powder
Pinch of Salt
2cup Sugar
2stick Butter ( room temperature )
3 Eggs
1tbsp Vanilla Essence
1cup freshly squeezed Orange Juice
Zest of 1 Orange
Mix all the dry ingredients together .
In a big bowl beat  Butter , Sugar , Egg & Vanilla Essence until its fluffy .
Alternatively add Flour mixture & Orange Juice to the butter .
Mix everything well & add the Orange zest .
Pre-heat the Oven to 350degree .
Transfer the cake batter to a prepared 9″ pan & bake for 40-45min or until the Cake is cooked through .
Allow it to cool down .
Orange Simple Syrup :
1cup Sugar
1cup Water
2tbsp Orange Juice
Boil all the ingredients  together .
Cool it down .
When the cake is cooled brush the Simple Syrup on top of the Cake .
Chocolate Ganache :
8oz  chopped Chocolate
1cup Heavy Cream
2tbsp Butter
Finely chop the Chocolate & place in a  medium bowl .
Heat the Cream & Butter together .
Add it on top of the Chocolate & stir well until smooth .
Pour the  Ganache on top of the Cake .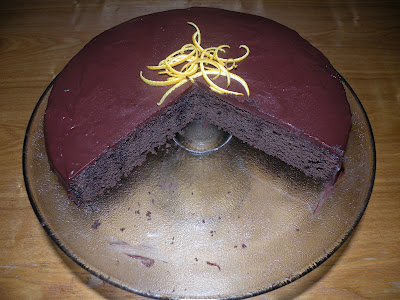 Decorate with some Orange Peels .