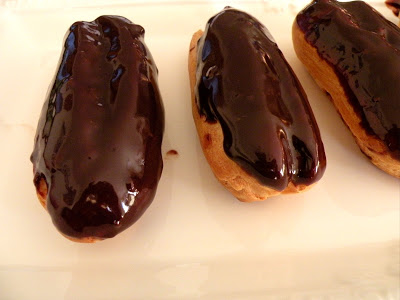 Ingredients : To make  Filling of Chocolate Eclairs

2cup Milk
1tbsp Vanilla Essence
6 Egg Yolk
2/3cup Sugar
1/4cup Corn Starch
1tbsp Cold Butter
1cup Heavy Whipping Cream
Method :
In a saucepan , boil Milk & Vanilla Essence together .
Remove the pan from heat .
In another bowl , combine Egg Yolk , Sugar & Cornstarch .
Whisk the Egg mixture nicely .
Carefully add some hot Milk (around 1/4cup ) into the Egg mixture & whisk vigorously until incorporated .
Whisk in the rest of the hot milk into the Egg mixture .
Transfer the Milk & Egg mixture back into the saucepan & cook in a medium flame , whisking constantly, until thickened .
Remove from heat & add Butter .
Allow it to cool completely .
Whip some Heavy Cream &  fold it onto the Custard .
Filling is ready !!!!!!!!!
Ingredients : To make the Pastry for Chocolate Eclairs

1cup Water
1stick Butter
1/2tsp Salt
1tbsp Sugar
1cup Flour
4 Eggs
Method :
In a large Saucepan boil Water , Butter , Salt & Sugar together .
When its boiling turn off the gas & add the Flour .
Using a wooden spoon stir the mixture .
Return to the heat & cook for 30 sec or until it forms a ball of dough .
Allow it to cool slightly .
Using a beater , beat in 1 Egg at a time into the dough .
Be sure to beat until the Egg is fully cooperated into the dough .
Transfer the dough into a plastic piping bag or zip-lock bag & pipe the dough into a parchment paper , about the size & shape of a hot dog .
Don't forget to leave space between each of them.
Pr-heat Oven into 425 degree & bake the Pastry for about 15min & then turn the heat down to 375 degree & bake for about 10min or until its light golden brown in color .
Allow the rolls to cool completely before piping in the filling .
Ingredients : To make Chocolate Glaze for Chocolate Eclairs
1/2cup Heavy Cream
4ounze Semi-sweet Chocolate  , coarsely chopped
Method :
Heat the Cream in a pan until just starts to  boil .
Pour the Cream on the top of Chocolate & whisk until its melted & smooth .
Set aside .
Assembling the Chocolate Éclairs :
Make 2 holes on the bottom of the Roll .
Fill a piping bag with Custard & gently pipe the Custard into the Roll .
Dip the top of  the Éclairs on Chocolate Glaze  & set on a sheet pan .
Chill , uncovered , at least for 1hr to set the glaze .
Enjoy !!!!!!!!!!!