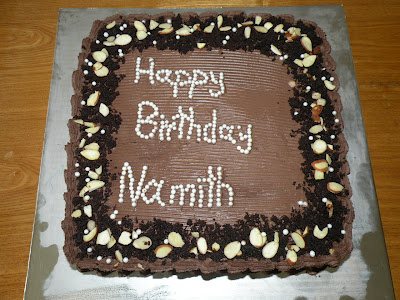 I made this Cake for my Son's B'day . The only demand from my son was it should be an Ultimate Chocolate Cake . I am very happy , cos HE & his Friends loved it .
1st : Chocolate Cake 
a)  1 1/2 cup All Purpose Flour
     1/2cup Coco Powder
( I used Dark Dutch Process Coco )
     1pinch Salt
     1tsp Baking Powder
     1tsp Baking Soda
Mix everything well  & sift the powder for 2 times .
If there is small lumps break it with your hands .
b)  1cup warm Water
      1tbsp Instant Coffee Powder
Mix the Water & Coffee powder .
Keep it a side .
c)  1 1/2 cup Butter ( room temperature )
     4 Eggs
     1 1/2 cup Sugar
     1tbsp Vanilla Essence
In a big bowl beat the Butter , Egg , Sugar & Essence .
Into that alternatively add the Flour & Coffee .
Pour the batter into a prepared pan & bake in a 350 Degree pre-heated Oven for about 30-35min , or until the cake is cooked through .
Allow the Cake to cool down .
This is a very moist & soft Cake .
2nd : Chocolate Mousse ( Filling ) 
I did my Chocolate Mousse in Food Processor .
2cup  Semi-Sweet Chocolate Chips
1/3cup Heavy Whipping Cream
3tbsp Sugar
1/4cup Coffee
1tbsp Vanilla Essence
1cup Heavy Whipping Cream
In a saucepan heat 1/3 cup Heavy Cream & Sugar .
Don't allow the Cream to boil .
In a Food Processor grind the Chocolate Chip into fine powder .
With Food Processor running pour the  hot Cream .
Allow the Chocolate to melt .
Add the Coffee & Vanilla Essence .
Blend the mixture for few min or until it turns smooth .
Remove it to a bowl & allow it to cool down completely .
Beat 1 cup of Heavy Cream ,until soft peaks form .
Fold the Cream into the Chocolate mixture & Chocolate Mousse is ready .
You can cover the bowl & refrigerate for couple of days .
As it is you can serve this as a Dessert .
3rd : Chocolate Whipped Cream ( Frosting ) 
2cup Heavy Whipped Cream
3tbsp Coco Powder
4-5tbsp Sugar
In a big bowl  beat all the ingredients together until you gets stiff peaks .
Cover the bowl & keep it refrigerated until use .
4th : Assembling the Cake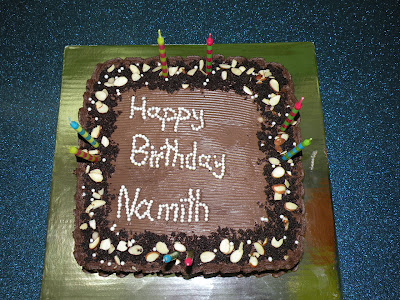 Cut the cake into two equal layers & fill the Chocolate Mousse.
Cover the cake with the Chocolate Whipped Cream .
Decorate according to your wish .