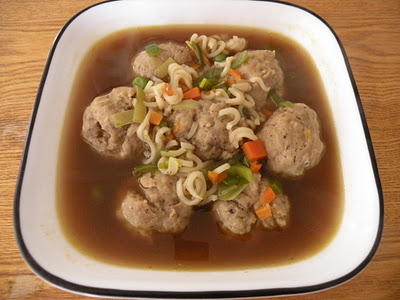 In a  bowl mix 1 pound of minced Turkey , 1tbsp grated Ginger , 1tsp light Soy Sauce , 1tsp Rice
Vinegar , 2tbsp Corn Starch & Salt . Mix everything well & make medium size  balls . Keep it aside .
Mix  3cup  Beef Stock with 2cup Water & heat . Add 1tbsp Soy Sauce , 1tbsp fresh Ginger Juice ,
Black Pepper Powder  & Salt . When the soup is boiling add the meat balls . Add 1/4 cup each chopped
Beans , Carrots , Leeks & Green Peas . Allow it to boil & serve with cooked Noodles .
Add Black Pepper according to your taste .
If the soup becomes thick add more stock .
Substitute Turkey with Beef , Pork or Chicken  .
For this recipe I used Maggi noodles . You can use normal noodles , cook it according to its box  directions
If you have baby Bok Choy  add that also , I forgot to add that …………Later I add  1 bunch of Bok Choy & its really good …………..