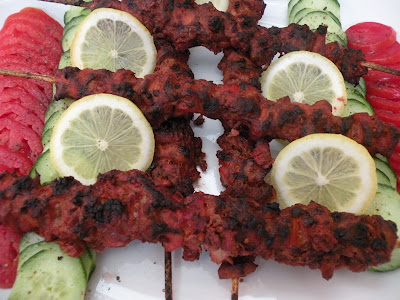 Ingredients : To make Chicken Tikka
6 pieces of Chicken Thighs
( cut into 1 inch cubes )
2tbsp Yogurt
1 small Onion , finely chopped
3 cloves of Garlic , paste
1tsp Ginger , paste
1tbsp Tamarind Pulp
1tbsp Paprika
1/2tsp Cumin , powder
1tbsp Cayenne Pepper
1 pinch of grated Nutmeg
Salt & Pepper
Red Food Color ( Optional )
Method :
4 Metal or Wooden Skewers
( If you are using wooden skewers , soak the skewers in water for 30min , otherwise the heat from the broiler will burn the skewers .)
Mix all the ingredients together & marinate the Chicken .
Cover & keep in the fridge for at least 2hrs .
Tread the Chicken on Skewers , put under the broiler & cook for 3-5 min on each side .
( If you have grill use that instead of Oven .)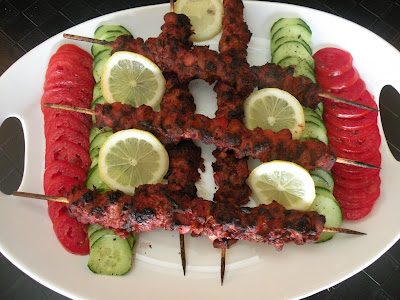 Serve hot with some Salad or with Raita .