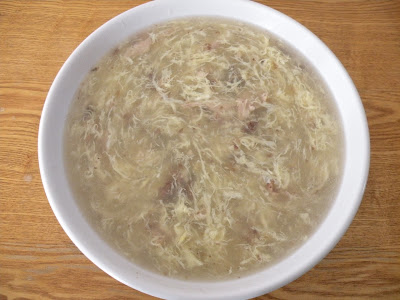 When I  buy a  Whole Chicken I use its  backbone , wings & neck to make Broth .
I used to boil 3 liters of Water & all the Chicken pieces together in a big pot .
Once the Chicken is cooked allow it to cool down .
Remove  meat from the broth & shred the meat .
In a small dish whisk 2 Eggs . ( just mix it )
In another dish mix 4tbsp Corn Starch with some water .
Bring the broth to boil & add the shred meat .
Carefully add the egg , hold the egg mixture above the pan & drizzle the egg mixture into the broth . Using your other hand stir the soup .
When you drizzle the egg be careful to pour it like a tread is falling ( that tin it should fall ) .
Don't forget to stir while you pour the egg .
Add the mixed Cornstarch . If you think you need the soup to be more thick mix some more Cornstarch with some water & add to the Soup .
Add some Pepper & Salt .
Serve it hot .
If you like add some creamed Sweet  Corn .