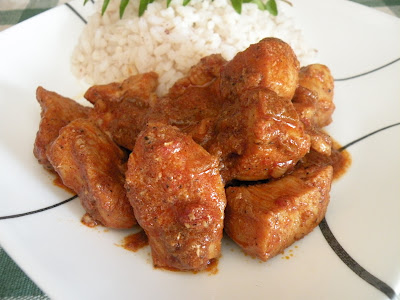 Chicken Curry is a very popular dish  in my Home , but this Chicken Curry is not the same style recipe which I make  . I made an easy version of Chicken Curry which You can make very fast .
Ingredients : To make Chicken Style ( My Style )
3 Chicken Breast pieces
( Cut into medium size pieces )
1 Onion
1tbsp Paprika
1tbsp Cayenne Pepper
1tbsp Garlic Powder
( Use 3-4 cloves of Garlic , if you don't have Garlic Powder )
1 Tomato
Black Pepper Powder
Salt
Method :
Heat some Oil in a pan & saute the Onion .
When Onion turns Transparent add all the Spices & Salt .
Stir for 2min & add chopped Tomatoes & Chicken .
Cook until Chicken is cooked through .
( If you want more gravy add some Water .)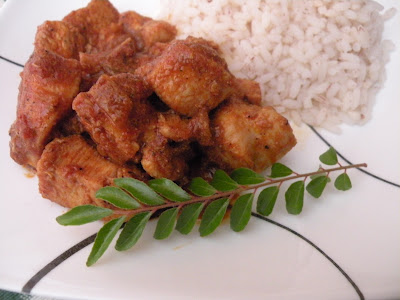 Garnish with Curry Leaves or with Coriander Leaves .
Serve it hot with Rice .