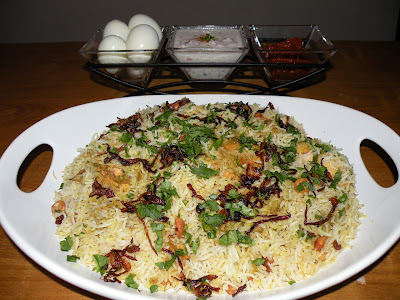 I used 1 whole Chicken for this recipe .
Cut the Chicken into big pieces . From 1Chicken I used to cut around 8-10 pieces .
Marinate the Chicken for whole night or at least 1/2 hour .
For marination you need :
1 whole bulb of Garlic                   1tbsp Chili Powder
5-8tbsp grated Ginger                   1tsp Turmeric Powder
7 Green Chilies                              Salt
Grind everything into a fine paste .
Add 1/4 cup thick Yogurt into the grind masala &  marinate the Chicken .
To make Chicken Curry you need :
2 chopped Onion                               Pepper Powder
5 cloves of Garlic                             1tsp  Turmeric Powder
3 Green Chilies                                 1tbsp Garam Masala
1 tbsp Ginger
Salt
In a pan heat  some oil & saute Onion .
When Onion turns golden brown add Garlic ,Chilies & Ginger .
When its fried add the marinated Chicken with all the liquid .
Cover with a tight lid & allow the Chicken to cook .
Add Garam Masala & Turmeric Powder .
Mix everything well & allow it to cook .
As a garnish add some Coriander Leaves .
While making curry you should be careful about some things :
Check the spices in the curry , if you need only add the Pepper Powder .
For Biryani all the heat is coming from Pepper Powder & Chilies .
No need to add Chili Powder .
The gravy of the Chicken should not be too thick or too loose .
To make Rice you need :
3 cup Basmati Rice                                  1stick Cinnamon
6 cup boiling Water                                  6 Cloves
Salt                                                          4 Cardamon
In a pan heat some Ghee & add all the spices .
Add the Rice ( wash & soak for 15min ).
Fry the Rice for 5min or until when you bite the rice its firm .
Add hot water & Salt .
When water reduce down to Rice level , cover the pan with a tight lid & turn off the gas .
After 20min open the lid & fluff the Rice .
For Garnish you need :
2 Onions                                1/4 cup Raisins
Coriander Leaves                   1/4 cup Cashew
Thinly slice the Onion & fry until it turns golden brown color .
Also fry Cashew & Raisins .
Finley chop Coriander Leaves .
To Layer :
Take a big baking pan & brush some Ghee .
Put some Rice & over that put some Chicken curry .
Sprinkle some fried Onions ,Cashew ,Raisins & Coriander Leaves .
Layer some more Rice on top & continue doing it until you finish the Curry & Rice .
On top drizzle some Ghee & bake in a 350 degree pre-heated Oven for 30min .
Don't forget to cover the pan with a tight lid .
Serve Biryani with Raita & Pickles .