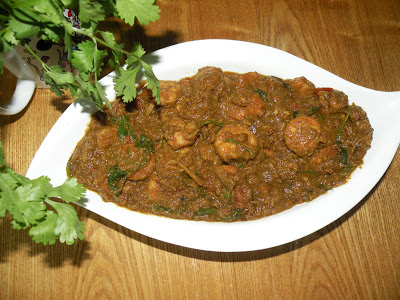 Ingredients : ( To Cook Shrimp )
2pounds Shrimp , cleaned
1tbsp Ginger , grated
Curry Leaves
Salt
Method :
In a small pan combine all the ingredients together & cook the Shrimp .
Keep it on a side .
 Ingredients : ( To Make the Masala Powder )
1tsp Fennel Seeds
1/4tsp Cumin
1tsp Black Pepper
Method :
Using a Coffee grinder make a fine powder .
Ingredients : ( To Make the Chettinad Shrimp Curry  )
2 Onion , chopped
2tbsp Ginger Garlic paste
2 Tomatoes ,diced
1/2tsp Chilli Powder
1tsp Turmeric Powder
2tbsp Coriander Powder
1tbsp Garam Masala
1tsp Black Pepper Powder
1small stick Cinnamon
3-4 Cloves
3 Cardamom
Curry Leaves
Coriander Leaves
Salt
Method :
Heat some Oil in a pan & add the whole spices ( Cinnamon,Cloves,Cardamom)
Add the Onions & Curry Leaves to the pan & saute until Onion turns golden brown in color .
Add Ginger Garlic Paste & saute for few mins .
Add all the Powder's ( Coriander , Turmeric , Chilli , Garam Masala , Black Pepper & also Fennel , Cumin & Black Pepper Powder )
Saute the Masala on a low flame for few mins.
Add the Tomatoes & little water for the gravy .
Allow it to cook for few min or until the Tomatoes are cooked & mashed .
If needed add some more water .
Cook until the Oil starts to flow on the top .
Add the Shrimp & mix everything well .
Before turning off the Gas add some fresh Coriander Leaves .
Serve it hot with some Rice .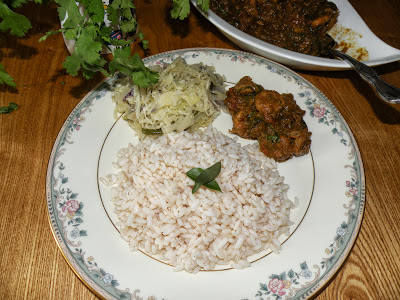 *Note: This is a very spicy recipe . You can adjust the spiciness by lowering the amount of Black Pepper Powder .
Instead of Shrimp try to use Chicken & make the same Chettinad Chicken , it is yumm………