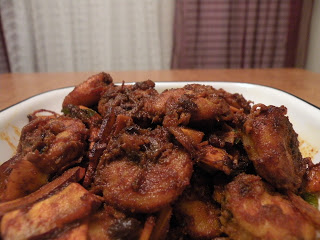 Clean 1 pound of Shrimp .
Add 10 Shallots finely chopped , 1tbsp Chilli Powder , 1tsp Turmeric Powder , Curry Leaves , 1small pieces of Kudampuli ,1/2 cup Coconut pieces , 2tbsp Coconut Oil & Salt .
Mix everything well & cook until all the water is evaporated & Shrimp is slightly golden color .
Serve it hot with Rice .
I love this recipe .It is a very easy method .
When all the water is evaporated cook the shrimp in a low flame . This will allow the Shrimp to fry on each sides .