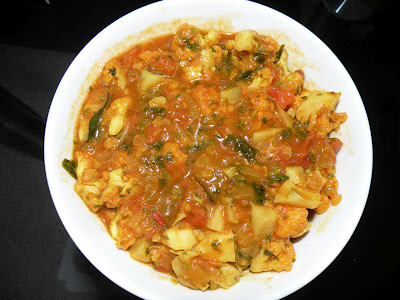 My Mom used to make this curry , I love this curry a lot . Sometimes if she don't have Tomatoes , she used to add Maggi Tomato Ketchup .
For this recipe I used 1 medium sized Cauliflower . Chop it into small pieces .
Try to soak the chopped Cauliflower in some cold water , it will remove all the dirt & sand from the Cauliflower .
For this recipe you need :
1 Onion chopped                                      1 1/2 tbsp Chili Powder
5 cloves of minced  Garlic                          1tsp Turmeric Powder
2tbsp finely chopped Ginger                      Salt
2  chopped Tomatoes                               Coriander Leaves
Curry Leaves
In a pan heat some Oil & saute Onions , Garlic , Ginger & Curry Leaves .
Add Chili Powder & Turmeric Powder , fry it in a medium flame for 5min .
Add the chopped Tomatoes & allow it cook down .
Add the Cauliflower & Salt , mix everything well .
Cover the pan with a lid & cook the Cauliflower .
Before serving add some chopped Coriander leaves & serve hot .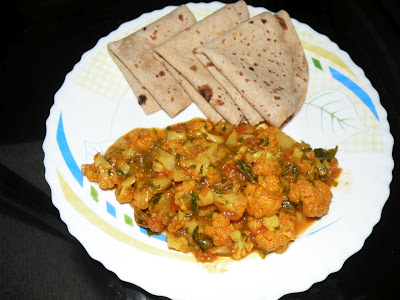 Serve  with  Roti .