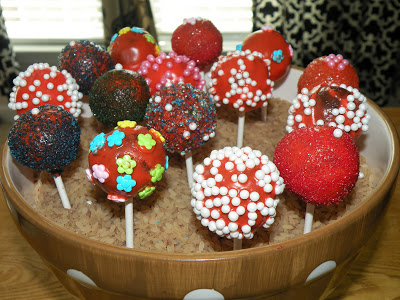 Ingredients :
Cake , crumbled ( Use any flavoured Cake )
Butter Cream Frosting , as needed
White Candy Melts or Melted Chocolate
Lollipop Stick
Sprinkles
Method :
Mix the crumbled Cake & Frosting together .
Mix a make a smooth dough .
Make small balls out of the dough .
Allow it to cool down in the fridge .
It will be easy to work with , when the balls are cold & tight .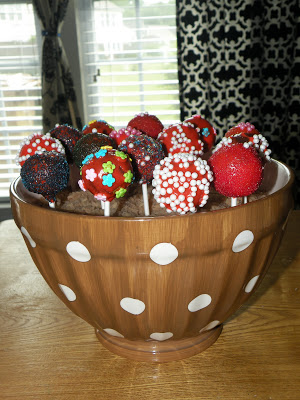 Dip the end of the Lollipop stick into the melted Chocolate .
Carefully insert the stick into the ball .
Dip the ball into the melted Chocolate & carefully tap off the excess Chocolate .
Sprinkle some Sugar balls or Sprinkles & let it cool .
Yes !!!!!!!!!  Cake Pops is ready ………….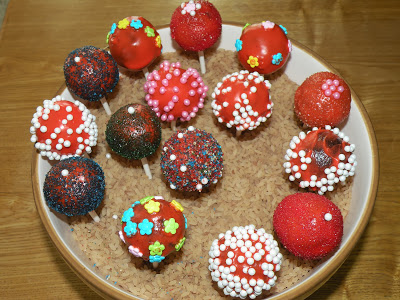 *Note : You can make any kind of design or any kind of shape on Cake pops .
There is a lady baker named Bakerella, she is an amazing artist & she make a variety of Cake Pops .
Do go to her blog & see how she is making the Cake Pops .
I am sure You will get a lot of ideas to do the Cake Pops .