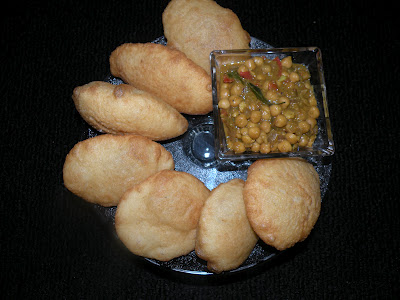 Ingredients : To make Bhatura
2tsp Yeast
3/4 cup Warm Water
Mix together & let it sit for 10min or until it becomes frothy .
2cup Maida ( All Purpose Flour )
4tbsp Sooji ( Rava )
1tsp Salt
1tsp Sugar
3tbsp Yoghurt
2tbsp Oil
Mix all the ingredients together & add the Yeast Water .
Knead the dough well  until its soft .
Cover the dough & place in a warm place for 3-4hrs or until the dough doubled in size .
Knead the dough again & divide into  12 equal balls .
Lightly dust the ball & roll into small circles .
Heat Oil in a pan & fry the dough , until its puffed up & gets light golden brown in colour .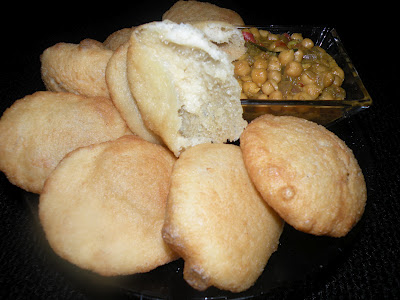 Serve it hot with Chole / Channa Masala .