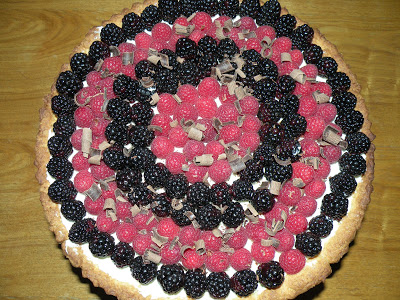 Ingredients : ( To Make the Crust )
2 1/2cup Flour
1/2cup Sugar
1/4tsp Salt
2 stick cold Butter , cut into 1/2inch cubes
3 Egg Yolks
1/4cup Ice Cold Water
1tsp Vanilla Essence
Method :
Pulse the Flour , Sugar & Salt together in the bowl of a Food Processor .
Put the Cold Butter into the Flour mixture & pulse until the Butter is coarsely cut in .
Add Egg & Water into the Flour .
Pulse until the dough comes together .
Remove the dough onto the  working surface .
Knead the dough until everything comes together .
Cover the dough with a plastic wrap & chill the dough for about 1hr .
Butter an 11inch Tart pan very well .
Pre- heat Oven to 425 degree .
On a floured surface , roll out the dough to 1/4 inch thickness .
Gently transfer the dough into the tart pan .
Press the dough lightly into the edges & bottom of the pan .
If there is excess dough on the edges of the pan ,press down the dough  using finger .
With a fork poke the dough several times .
Try  to poke on the sides also .
Bake the Shell in a pre-heated Oven for about 20min or until it gets golden & crispy .
Allow it to cool down .
Ingredients : ( To Make the Filling )
8 ounce Mascarpone Cheese
1/2cup Heavy Cream
3tbsp Sugar
3tbsp Water
1tsp Vanilla Essence
Method :
Use Hand mixer to whip together Mascarpone , Heavy Cream , Sugar , Water & Vanilla .
Beat until you gets soft peaks .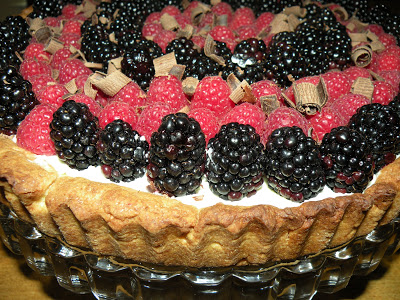 Assembling the Berry Tart with Mascarpone Cream :
Raspberries
Blackberries
Shaved Chocolates
Spread the Filling on top of the cooled Crust .
Arrange the Berries according to your wish .
Sprinkle some Chocolate shaving .
Cut the Tart & serve with some Whipped Cream .