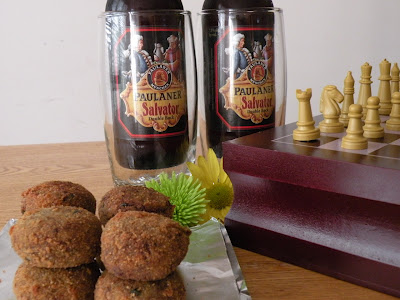 Ingredients : To make  Beef Cutlets
1pound Minced Beef
1  Onions
1/2tbsp Ginger
1/2tbsp Garlic
2-3 Green Chillies
Curry Leaves
1tsp Chilli Powder
1/2tsp Turmeric Powder
1tbsp Pepper Powder
1tbsp Garam Masala
Salt
Coriander Leaves
2 medium size  Potatoes,cooked
Bread Crumbs
1 Egg White
Method :
Heat some Oil in a pan & sauté finely chopped Onion , Ginger , Garlic , Green Chillies & Curry Leaves .
Sauté it until the  Onion turns golden brown in colour .
Add all the dry masala's or the powders & fry in a low flame for 3min .
Add the minced Beef & mix everything well .
Allow it to cook & stir until the beef is dry & its well cooked .
Let it come to the room temperature & add  Coriander leaves .
Mash the Potatoes & add the beef masala .
Mix everything well & make a small ball & shape it according to your desire .
You can make Oval , round , heart shape or even small balls .
Dip each Cutlets in egg white & then roll in bread crumbs .
Deep fry each Cutlets in Oil .
Serve it hot with some Ketchup or with some Salad .