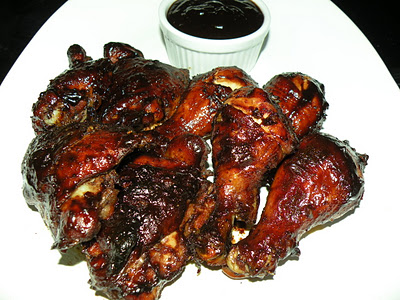 For this recipe I used 4 pieces each  Chicken Drumsticks & Chicken Thighs . Don't remove the Skin . Marinate the Chicken in the Sauce  & bake .
BBQ Sauce : 1 cup Balsamic Vinegar                            1tbsp Worcestershire Sauce
                     3/4 cup Ketchup                                      1tbsp Dijon Mustard
                     1/3 cup Brown Sugar                                1/2 tsp each Salt & Pepper
                      1 – 2 cloves minced Garlic
Combine everything well & stir until it becomes smooth .Season  the Chicken with some Salt & Pepper .  Pour 1/4 cup Sauce into the Chicken & marinate the Chicken for about 4hrs .
Meanwhile cook the rest of the  BBQ Sauce in a medium heat until it reduce down .
Bake the Chicken in a 375 degree Pre-heated Oven for about 25mins . Remove the Chicken from the Oven & brush some of the BBQ Sauce on the Chicken . Return the dish back to the Oven & bake for another 15min .
This is good recipe …………..I got this recipe from a TV show ……………..